The very nature of what we do - connecting people to tools, opportunities, and training that enable them to find
meaningful employment, support themselves and their families, and help build more sustainable communities - puts social responsibility at Manpower's core. Our commitment to producing a positive impact on individuals and societies is also an extension of our values:
       • Respect for individuals and communities and the important role work plays in people's lives
       • Sharing our knowledge and expertise to develop sustainable workforce practices
       • Seeking innovative ways to develop socially inclusive work environments for the long term.
Our social responsibility principles and practices advance our focus on the world of work: We serve as a bridge to employment for all - linking the disadvantaged and disenfranchised to opportunities that help them survive and thrive. But it goes even further. As part of ManpowerGroup, we also strive to operate at the highest level of integrity and to be an effective and imaginative agent of change - even in the smallest communities.
Workforce Diversity
Since our inception in 1977, Manpower has been on the forefront of promoting workforce diversity in businesses. We take great pride in furthering the potential of individuals of diverse cultures, talents and experience. We always consider what people can do, versus what they can't do. And we make every effort to provide opportunities for anyone who is seeking the rewards and dignity of work.
Manpower is committed to providing equal employment opportunities in a professional, high quality work environment.
Workforce Development
With a skills gap ever present in the workforce there are people who want to work - with many diverse backgrounds - but face challenges in finding gainful employment. There are employers who want to hire while increasing diversity, but can't seem to find the skill sets they need. That's where Manpower shines. We work directly with our associates to understand their transferable skills and connect them with employers that can benefit. Additionally, our candidates have unlimited access to powerYOU, where they are able to learn new skills for free, so employers will have access to trained, motivated workers who can step in immediately and contribute.
Community Involvement
Employers. Workers. Two cornerstones of any community. Manpower brings them together for their mutual benefit. That's why we're naturally committed to making our communities more sustainable places to live, work and do business. We encourage our staff to be active in their communities not only in a professional but a personal capacity. We are proud supporters of organizations that enrich the lives of people in our community.
Contributions to the Community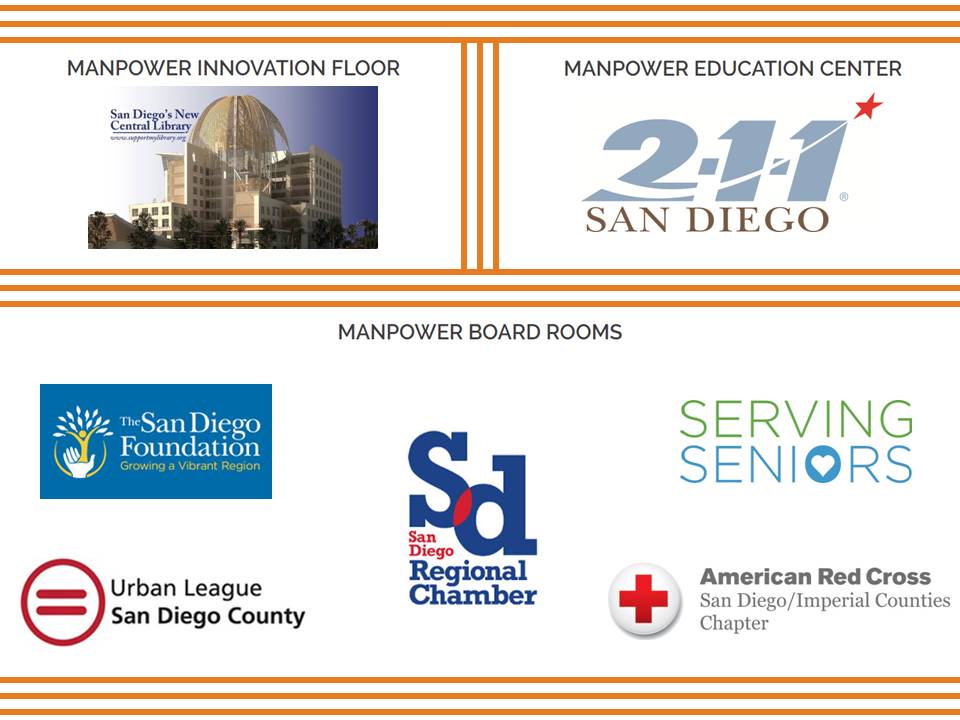 Manpower is excited to constantly be involved in community events - our community is important to us and we love to be involved and give back!  Please check here for upcoming events that you may want to participate in.
Veteran-Mentor Meet & Greet at Biocom Institute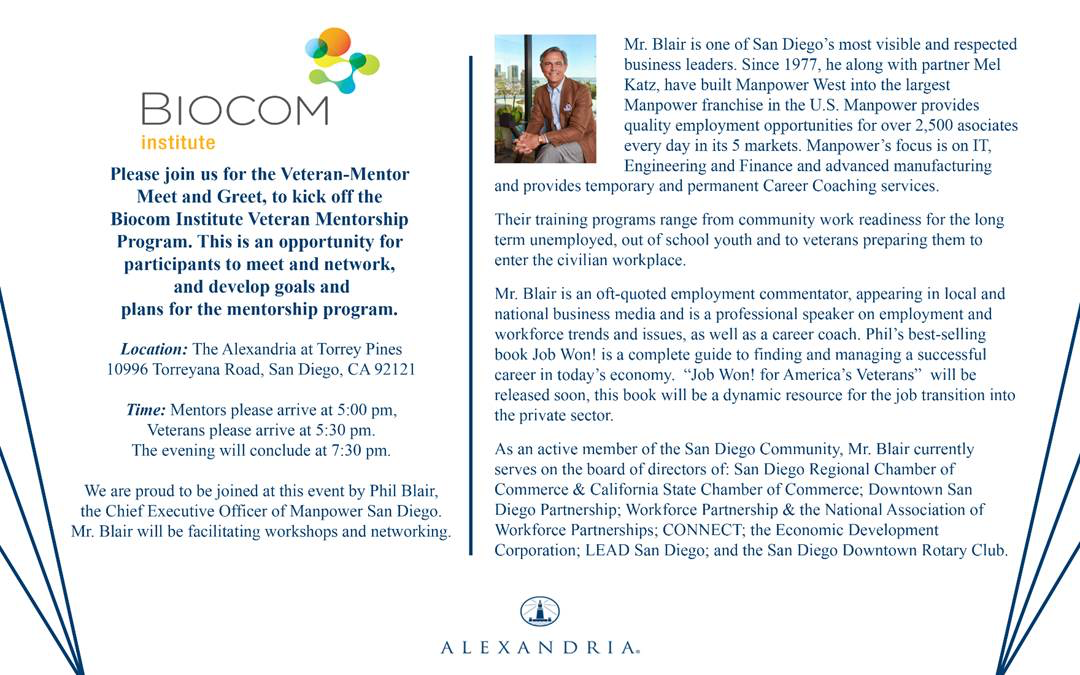 2018 Corporate Champion Award
The Women's Museum of CA is hosting the 2nd Annual Women in Leadership Awards event supporting the museum, which will be honoring the brave women behind the #MeToo and #WeSaidEnough movements and will have lots of regional elected and community leaders attending.
Senate President Pro Tem-designee Toni Atkins will be presenting the award to Adama Iwu, one of the 2017 TIME Magazine Silence Breakers. She was one of the 140 women who signed the #WeSaidEnough letter calling for a change in culture here in California politics.
United States Representatives Susan Davis and Scott Peters are chairing the honorary committee comprised of prominent elected officials from across the state of California.
Manpower is very happy to accept the Corporate Champion Award! We strive to always continue to be champions for equality in all aspects, so this is a great honor!
Women Leadership Awards Event Details 
ManpowerGroup Named "Best Company to Work for Women"
"Creating an inclusive environment where women want to work is about more than just policies and percentages," said Becky Frankiewicz, ManpowerGroup North America President. "At ManpowerGroup, we have long been a promoter of inclusion and gender parity in the workplace, so it is a great honor to receive this Women's Choice Award recognition. Organizations that are serious about getting more women into leadership roles and including half the talent in the workforce must go beyond programs and change culture. Change starts from the top and must be championed by male, as well as female leaders. While leaders need to create systemic change, we can all start by doing something different today."
ManpowerGroup's report, Seven Steps to Conscious Inclusion: A Practical Guide to Accelerating More Women into Leadership provides practical steps to accelerate organizations to achieve conscious inclusion and close the gender gap.
"Action has never been more important than now and we take great pride in offering women an objective and uniformed reporting process so they can choose where to work with greater confidence," said Delia Passi, CEO and Founder of the Women's Choice Award. "We recognize that gender discrepancies are very real in the workplace, and knowing we can help women to choose an organization that supports her values is core to our mission. It's an honor to recognize ManpowerGroup as a company that works toward empowering their female employees."
The Women's Choice Award for Best Companies to Work For is the only award that reflects the needs and preferences of women based on publicly available data, which aligns with employee and consumer appreciation for corporate transparency. Data was compiled from a variety of publicly available sources and then weighed accordingly for each of the three categories.
 2018 World's Most Ethical Company & 2018 World's Most Admired Companies
ManpowerGroup has been recognized for the 8th consecutive year as a World's Most Ethical Company by the Ethisphere Institute, a global leader in defining and advancing the standards of ethical business practices. ManpowerGroup has also been named one of Fortune Magazine's 2018 World's Most Admired Companies for the 15th year in a row, ranking second for the most admired company in the diversified outsourcing services industry.
"Our 70-year legacy of providing meaningful and sustainable employment is built on the belief that running a good business also means contributing to society. Ethics run throughout our organization at ManpowerGroup and every person plays a role in keeping our ethical compass firmly in place. These recognitions are a testament to our people and our values that are embraced by our employees across the globe, who provide tremendous value to our clients, while helping millions of people develop skills so they can access opportunity and meaningful employment."
- Jonas Prising, Chairman & CEO, ManpowerGroup.
Tillie's Trotters
The Susan G. Komen Race for the Cure 5k for breast cancer is an event that Manpower participates in every year.  We encourage and sponsor all of our employees, and their family members or friends, to participate in the Susan G. Komen Race for the Cure event, inviting them to join our team called Tillie's Trotters, which raises money and awareness for breast cancer, while celebrating the survivorship of one of our very own Manpower family members.  Keep your eye out here for the 2017 date to join us in raising money for the cure!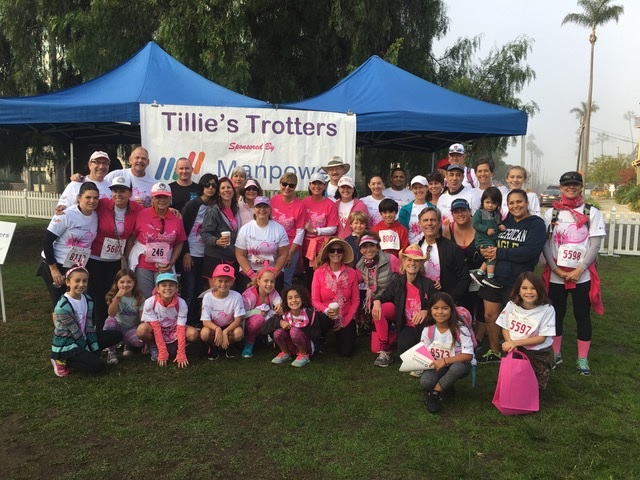 San Diego Manufacturing Day
San Diego Manufacturing Day takes place each year in October.
We are so proud to participate in this wonderful event that highlights San Diego's amazing manufacturing companies & products.
San Diego Rotary Club Mr. & Mrs. San Diego 2017 Award
Mel & Linda Katz have been honored to be awarded the titles of Mr. & Mrs. San Diego 2017 by the San Diego Rotary Club, an award recognized not by one or two accomplishments, but based on their community involvement over a long period of time.  Mel & Linda are both advocates of their community, and are humbled to receive such recognition for their dedication.  Join us in congratulating them on such a wonderful honor.